From 1936 to 1950


The end of the Civil War and the start of Franquism led to the disappearance of the Galician language from the public arena, from education and socio-economic activities. Those whose only way out was exile -Castelao, E. Blanco Amor, Luis Seoane, Rafael Dieste- were able to keep alive the flame of Galician culture, language and identity but from outside Spain. Galician cultural development took place in Argentina, Venezuela, Mexico and Cuba.

The social situation of the Galician language worsened, firstly, with compulsory education at primary level using Spanish as the only language for teaching and, secondly, with the popularisation of the communication media.

These difficult circumstances did not dampen the spirit of Galician feeling and the language gradually started to re-appear in the cultural sphere. In 1946-47 four works of poetry were published. Important, too, were the appearance of the poetic anthology Benito Soto, the Bibliofilos Galegos and the bilingual weekly supplement to the Santiago newspaper La Noche.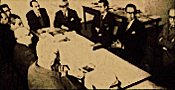 Meeting of the editorial
board of Galaxia.


The key to the recovery of the written language was the creation of the Editorial Galaxia in 1950. Its main promoters, Otero Pedrayo, Ramon Piñéiro, F. Fernández del Riego and others, showed once more that the Galician language could be used perfectly well for any genre or subject matter. Galaxia became the centre for several periodic publications: Revista de Economía de Galicia; a journal on cultural and artistic subjects, Atlántida, and another on thought, Grial, which was prohibited the year after its creation.